Google reviews impact the company's online reputation in a significant way. They aid potential clients in making wise judgements by offering useful insights into a company's goods or services. Reviews, however, can occasionally be unreliable, inappropriate, or malicious, which can hurt a company's reputation. In these situations, it's crucial to remove the negative Google reviews to safeguard the company's reputation.
What is the impact of Negative Google Reviews on a Business?
Negative Google reviews can greatly harm a business's reputation and discourage potential customers, potentially leading to lost revenue. Negative reviews on platforms like Google My Business can also reduce the business's visibility and decrease trust among potential customers. Removing false information from negative reviews can help minimize the damage and protect the business's image.
Reduced visibility: Negative reviews can harm a company's reputation and make it less visible in search results.
Reduced trust: Negative reviews may cause prospective customers to have less faith in the company. A customer can decide not to do business with a company if they come across numerous unfavourable reviews.
Lost sales: A company's revenue can be adversely impacted by unfavourable evaluations since potential customers may choose to do business with a rival.
Damaged reputation: Negative reviews can harm a business's reputation and negatively impact its brand image, making it harder for the business to attract and retain customers.
Unresolved complaints: Negative reviews may reveal unresolved customer complaints. If these complaints are not addressed, they can lead to additional negative reviews and further damage to the business's reputation.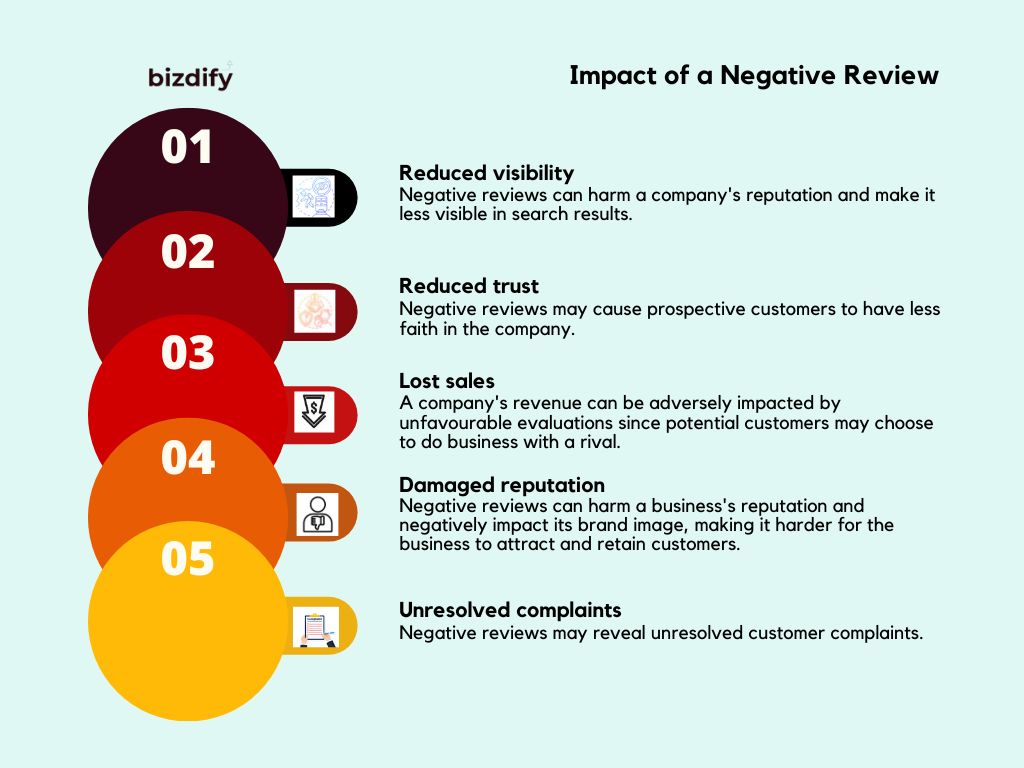 Therefore, it is crucial for businesses to monitor their Google My Business reviews and take action to address and remove google reviews permanently. By doing so, businesses can protect their online reputation, attract more customers, and enhance their revenue.
How can you help your business overcome these impacts? 
Negative reviews have a huge impact on businesses and their reputation. They can damage the reputation of a brand and its products, as well as lead to a decrease in sales. This can lead to customers making decisions based on these negative reviews, which can significantly affect the business's bottom line. Additionally, negative reviews also have an impact on customer loyalty and trust in a brand. It is therefore essential for businesses to take customer feedback seriously and address any issues that may arise from it. By doing so, they can ensure that their customers are satisfied with their products or services and maintain a positive reputation in the marketplace. Having positive and accurate reviews can boost a business's reputation and attract new customers. By removing negative and inaccurate reviews, you can improve the overall rating of your business and enhance its online reputation.
How do I remove Negative Google Reviews from Google My Business?
Follow these steps to remove a negative review from your Google My Business page:
Sign in to your Google My Business account: You must have a verified account to remove a review. If you don't have one, sign up and verify your business information.
Locate the review: Once you're signed in, go to the "Reviews" section and find the negative review you want to remove.
Flag as inappropriate: If the review contains inappropriate content or violates Google's review policies, you can flag it as inappropriate. Click the "Flag as inappropriate" button, and Google will review the review to determine if it should be removed.
Dispute accuracy: If the review is inaccurate, you can dispute its accuracy by clicking the "Dispute" button and filling out the form with your reasons for the dispute. Google will then review the dispute to determine if the review should be removed.
Keep in mind that Google has the final say on whether or not to remove a review. If a review is not removed, you can respond to it and try to address the customer's concerns, showing them that you care about their experience and are willing to make improvements.
In some cases, removing negative reviews may require the help of an agency for Online Reputation Management in Australia. ORM agencies have expertise and experience in handling negative reviews and can help to effectively remove them and improve your business's online reputation.
Why Is Hiring a Professional a Good Option for Negative Google Review Removal?
Hiring an online reputation management (ORM) agency can be essential for removing Google reviews because of the following reasons:
Expertise: ORM agencies have the experience and knowledge to handle negative reviews and remove them. They are familiar with Google's review policies and know the best approach to take to get a review removed.
Time-saving: Removing a Google review can be a time-consuming and complicated process. Hiring an ORM agency saves business owners time and effort as they can handle the task on behalf of the business.
Multiple Reviews: If a business has several negative reviews, it can be challenging to manage them all. An ORM agency can help remove multiple reviews, improving the business's overall rating and online reputation.
Complex Cases: Some reviews may be difficult to remove due to their content or the reviewer's account status. An ORM agency has the expertise to handle these complex cases and can take the necessary steps to have the review removed.
Monitoring: ORM agencies also perform online brand monitoring services for businesses and can quickly respond to new negative reviews, preventing them from causing harm to the business's reputation.
Conclusion
Removing a negative Google review is important for protecting and improving a business's online reputation. By following the steps outlined, you can flag a review as inappropriate or dispute its accuracy and have a chance of having it removed by Google. Accurate and positive reviews can attract new customers and enhance a business's online reputation. Hiring an ORM agency can be a beneficial solution for businesses struggling with negative Google reviews. With their expertise and experience, they can effectively remove negative reviews and improve a business's online reputation.
---
Bizdify is an award-winning reputation management company that established businesses have been relying on for years. Our team of experienced reputation managers provide services tailored to each business's specific needs.
Review Removal Package Plans – Bizdify
AU Remove Reviews Bizdify Packages
UK Remove Reviews Bizdify Packages
USA Remove Reviews Bizdify Packages
EU Remove Reviews Bizdify Packages
Map Listing Optimisation By Bizdify
Contact Numbers:
Sydney: +612 888 00 307
Queensland: +617 366 77 473
Melbourne: +613 9999 7379
London: +44 204 577 4024
USA +1 737 7101 776
Social media accounts:
LinkedIn: https://au.linkedin.com/company/bizdify-content-removal
Facebook: https://www.facebook.com/bizdifyAU/
GMB Site: https://bizdify.business.site/