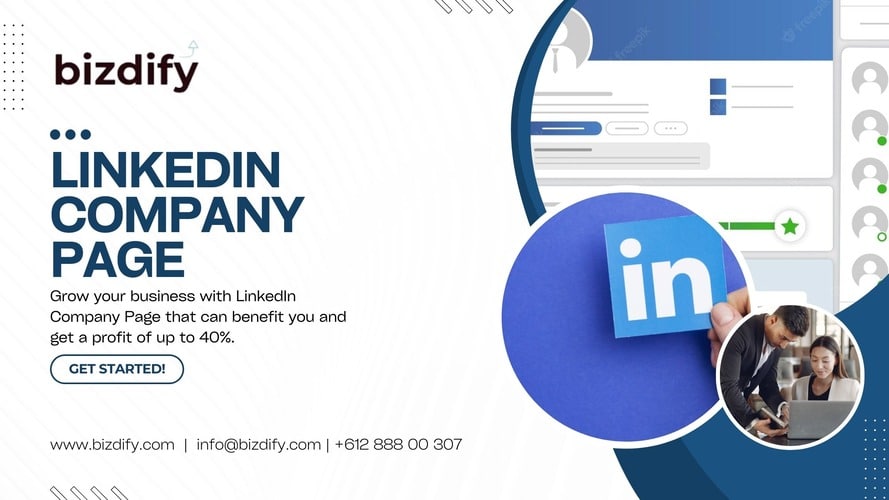 Guide to LinkedIn Company Page
Having a LinkedIn Company profile is something that many businesses are missing out on. A LinkedIn Company page performs a variety of quite distinct tasks in comparison to your personal profile, whether you are a self-employed, owner-driven business or you have a lot of employees who have personal LinkedIn profiles. But many of us do not even know about LinkedIn page creation.
Why is having a LinkedIn company page important for your business?
1. It showcases the whole company, not just a single employee.
The foundations of LinkedIn are individual user profiles, which often highlight the user's skills rather than those of the organization they work for. Members of LinkedIn use the site for a variety of purposes, two of which are to follow and network with other professionals and to follow businesses to learn about the latest news and developments from those businesses.
Check out the business page for the computer juggernaut Dell. More than 940,000 of its followers are interested in following it for technology-related developments. Their news frequently combines announcements about their own technologies with advancements in the industry.
2. Your employees act as indirect brand ambassadors.
Employees are instantly added to your LinkedIn company page when they update the "Experience" part of their individual LinkedIn profiles with your company's name. The profile viewer can easily go from the employee's personal profile to your business page thanks to a clickable image of your company logo that serves as an indicator of this.
You may boost the likelihood that a connection will click the link and be sent to your business page by simply making sure that every member of your team has correctly attached their profile to it. The only thing left to do is to make sure that your workers build strong networks within the business sectors you intend to operate in.
3. You can calculate the effectiveness of your updates.
LinkedIn Company Page is a great option for your business, as it provides you with analytics whenever you publish a news update from your business page. These statistics include the number of impressions your post has received, the number of clicks it has produced, and the number of interactions it has had.
When you share an update from your personal LinkedIn profile, analytics are not available, but you can see how many likes and comments the post has gotten and who shared it.
4. Stay Alert When Someone Mentions Your Business or Company
LinkedIn added "Notifications" recently to corporate sites. This function is quite helpful since it notifies you via email and on your corporate page whenever someone mentions your business in a personal LinkedIn status update.
LinkedIn shows your company name in a drop-down menu when it is typed into a post, giving the poster the option to tag your business in the content. You are informed of it, and other users who are viewing the person's post can click on the link and visit your company page directly.
5. Promote your most important news
One of the difficulties with publishing updates on social media, in general, is that, unless you post regularly, your most important information may quickly be buried in other members' vertical timelines when their posts are added. This is not a problem with a business page because you can choose your most important post and pin it to the top of the news stream, where it will remain until you decide to unpin it. Are you promoting a business occasion or a success tale? Pin it!
6. Showcase Your Specialist Services
I personally believe that LinkedIn made a mistake when they removed the opportunity to include a Products & Services page on your business in April 2014. The ability for page administrators to construct showcase pages has superseded this page. With the exception of the notification feature, a showcase page operates exactly as stated in the five points above. If your firm is large enough or provides a wide variety of services, you may wish to highlight each one separately while using the main corporate page as a landing page to highlight your company as a whole.
LinkedIn Company Page SEO

Your LinkedIn Company page, in contrast to your personal LinkedIn profile, is automatically made public. This indicates that material posted on this website gets ranked on the internet and affects the SEO rating of your brand. Share content from your LinkedIn Company page that is keyword-rich frequently to build your organization's online profile. To ensure that your page shows up in website search results, make sure the summary explanation of your business page has a lot of pertinent keywords.
LinkedIn Company Page Creation
You must have an email address from that company in order to create a business page. You can then select designated admins to help manage the page; they must be connected to you on LinkedIn. Be aware that an admin can add or delete other page admins and has complete editorial control over your page.
So, should you have a LinkedIn Company Page?
As already mentioned, having one will have many advantages, and it is strongly advised to choose the LinkedIn Page Creation Service from Bizdify.
Building a following, posting regularly, and keeping an eye on your page's content are necessary for getting the most out of having a company page.
It is obvious that there are many things you can do to increase your brand's profile and open up more business opportunities using LinkedIn, so you should choose the ones that are most likely to give you the quickest and most useful results.
Why is choosing BIZDIFY a good option?
Bizdify is a reliable reputation management company that provides services to promote your business and rank your page. We will help! You can boost your business with our LinkedIn page creation service, and if you choose to stay well-reputed, you can go for our negative review removal service. Apart from these, there are numerous services we provide to help you reach the crowd and reach them confidently.
---
Bizdify is an award-winning reputation management company that established businesses have been relying on for years. Our team of experienced reputation managers provide services tailored to each business's specific needs.
Review Removal Package Plans – Bizdify
AU Remove Reviews Bizdify Packages
UK Remove Reviews Bizdify Packages
USA Remove Reviews Bizdify Packages
EU Remove Reviews Bizdify Packages
Map Listing Optimisation By Bizdify
Contact Numbers:
Sydney: +612 888 00 307
Queensland: +617 366 77 473
Melbourne: +613 9999 7379
London: +44 204 577 4024
USA +1 737 7101 776
Social media accounts:
LinkedIn: https://au.linkedin.com/company/bizdify-content-removal
Facebook: https://www.facebook.com/bizdifyAU/
GMB Site: https://bizdify.business.site/