What are Facebook community standards?
The Community Standards specify what is allowed and what is not allowed on Facebook, and they apply to every user all over the world. They're designed to encourage creating a safe and peaceful environment on Facebook. In the case of any prohibited content, the whole page might even get removed.
Facebook has community standards that are applied to every Facebook user and each post shared on Facebook. If content goes against the Community Standards, it will be removed. Facebook also notifies the user so that one can better understand the reason behind the content removal. Depending on the history of violations and the severity of the violation, the entire account can be restricted or disabled.
If some content is removed from Facebook, it may be done by the user (especially the owner of the content) or by Facebook itself. Sometimes even Facebook memes go against the standards, or someone might report them due to inappropriate content or hate speech, which is then removed by Facebook. It also hides content like photos, posts, and comments or removes it from Facebook when it finds that it violates community standards.
What Are the Different Types of Content That Can Be Removed?
Use the Report link option next to the content if you find something that violates the Facebook Community Standards. However, not all content that you report will be taken down because Facebook has its own community standards, and only if Facebook finds something to violate those standards will it take action to take it down; otherwise, false reports will not be taken down.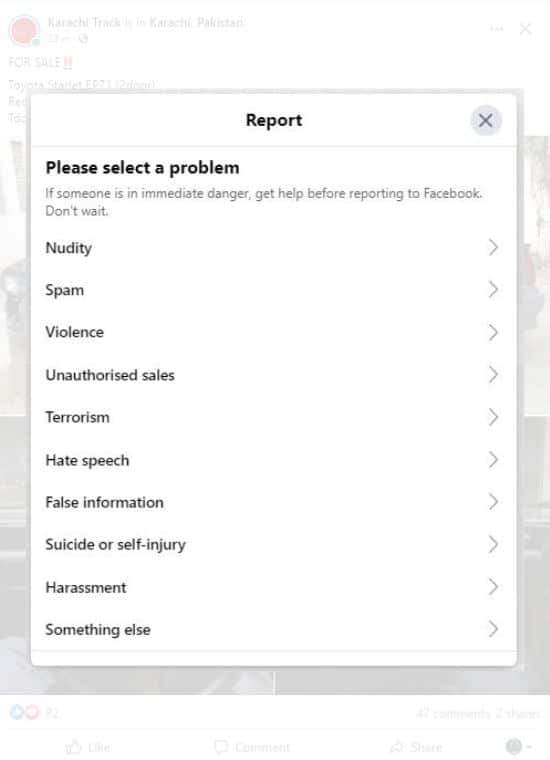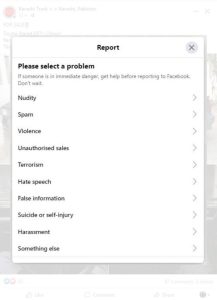 Here are a few types of content that can be removed from Facebook:
Nudity or other sexually suggestive content
Hate speech
Direct attacks on someone or a group
Credible threats
Content that is unfavourable to you or your company
Outdated content
Content with a lot of violence or self-harm
Fake or impostor profiles
Spam
Check Facebooks community standards policy page to see what can be removed from the site.
A Must-Know Tactic for Online Businesses to Use When Publishing Posts on Facebook
Facebook marketing is the promotion of a brand on Facebook. Businesses can use it to raise brand awareness among consumers, build an online audience, gather leads, and make more sales. But make sure the marketing strategy follows the Facebook Community Standards guidelines.
Facebook marketing tactics can include:
Photo, video, or organic text
Paid, video, photo, or text content
Facebook Stories and Reels
Facebook ads
Facebook Groups
Contests and giveaways
Facebook Messenger auto-responders or chatbots
Influencer marketing campaigns
For those working with a limited budget, social media marketing strategies are cost-free and the most effective way to boost your business.
Optionally, you can boost your growth with paid services, like:
Facebook ads
Influencer/partnership campaigns.
Boosted content
Why Should You Pay Someone to Remove Your Posts from Facebook?
You may be able to hide some posts, like profile pictures and cover photo updates, from your page. Personal data protection is an important factor in maintaining your good reputation. But maintaining privacy online is also a tiresome job.
When a post is hidden, it is removed from your page but not from the activity log. Only those with Facebook access to your page can see the activity log for your page.
In case a post you've hidden was shared, the audience it was shared with might still be able to see it in other areas on Facebook, such as the news feed and search. When someone visits the Photos section of your page, any photos in posts that you have hidden will still be accessible.
You might have to pay professionals to help you manage your online privacy and remove content from pages that you reach. This gives you a sense of security, and you do not need to worry about violating any Facebook Community Standards.
How to Choose the Best Facebook Content Removal Company
There are hundreds of reputation management agencies that provide Facebook content removal services. But choosing the right one is as difficult as removing the content from Facebook yourself. The best thing about reputation management agencies is that they know many tactics to remove content that might be bad for you or that might damage your reputation. Not all bad content is negative about your company, but sometimes the content becomes so old or outdated that the information in the post may no longer be true about you. Bizdify is the right choice for Facebook content removal. It has the best takedown service for Facebook and is an award-winning agency. It is a great choice for those who want to remove content from Facebook quickly and permanently. Bizdify has provided such services to many well-known companies.
Conclusion
Social media plays a major role in promoting and demoting your company. This is why people need a professional social media and online privacy manager to keep their reputation intact and grow their business without having to worry about Facebook Community Standards consequences because their privacy is paramount. Bizdify has a team of experts who can manage your social media page with the best approach possible.
---
Bizdify is an award-winning reputation management company that established businesses have been relying on for years. Our team of experienced reputation managers provide services tailored to each business's specific needs.
Review Removal Package Plans – Bizdify
AU Remove Reviews Bizdify Packages
UK Remove Reviews Bizdify Packages
USA Remove Reviews Bizdify Packages
EU Remove Reviews Bizdify Packages
Map Listing Optimisation By Bizdify
Contact Numbers:
Sydney: +612 888 00 307
Queensland: +617 366 77 473
Melbourne: +613 9999 7379
London: +44 204 577 4024
USA +1 737 7101 776
Social media accounts:
LinkedIn: https://au.linkedin.com/company/bizdify-content-removal
Facebook: https://www.facebook.com/bizdifyAU/
GMB Site: https://bizdify.business.site/