Websites rely on being ranked higher in the SERPs for their organic clicks. And they want to make sure the search results are clean and contain meaningful information about the business and its products/services. But this is not always the case as negative links in SERP tend to popup, endangering the business reputation and potential sales. Today we will discuss various reasons for negative links appearing in the SERP, and how we can remove them to achieve higher ranks in Search Engine Results.
What are SERPs?
SERP stands for "Search Engine Result Page". It is the first page on the search engine that contains the generated search results after we enter our query. This may contain organic results or paid ads. Apart from those, you get featured snippets, knowledge graphs, and video results.
Reasons for Negative Links Appearing in SERP
Search results on a search engine such as Google play a significant role in building or breaking a business reputation. When a potential customer Googles for information on a brand or a business and ends up looking at negative links in SERP, they are likely to walk away from your website.
There are several reasons why negative links in SERP may appear against your brand name or queries related to your business. If, after analysing the negative links in SERP, you conclude that these links are not being generated from your own business website, then they are most likely being generated by a competitor who published spammy content and linked back to your website. Or the competitor may have created a scrapped copy of your website, hosted it on another server, and used Blackhat SEO to rank higher than your links.
Another method that may be undertaken by a competitor, which may not be as drastic as the one above, involves posting negative reviews about your business or brand. The negative feedback can be posted on review sites such as Reviewstalk, Glassdoor, Tripadvisor, Yelp, or Google My Business. Therefore, removing these negative links is vital for a better online reputation and the best SERP rankings on Google.
Methods to Remove Negative Links From SERP
There are various methods that can be employed to remove negative links from SERP. Some can be undertaken right away, while others may take some time to deploy. Let's discuss the most popular approaches here today.
1) Use the Disavow Links Tool in the Google Search Console or Bing Webmaster Tool.
The Disavow tool is used to remove negative links coming from other sites back to your business website. You have the option to upload a text file to the Google Disavow tool with a list of links or domains that you would like disconnected from your website. While on Bing Webmaster, you have to manually add the links. After submissions, the request takes time and is likely to be approved within a couple of weeks.
2) Request the source website to remove or update the content.
This is the easiest way to remove or update the content. Most websites use a contact form where we can find the email address or contact number of the website owner. But if the source website does not mention contact details, the Google Whois lookup search can be used to get information about the website owner. After finding information about the owner, you can explain to them whether to remove our desired information or update the content. Most of the time, websites easily remove negative information from requests. Make sure you contact the source website using the owner's or webmaster's email.
3) Use the Removals Tool in the Google Search Console.
In case the negative links in SERP are actually found to be hosted on your own business website, then the first thing you should do is get in touch with your dedicated webmaster or developer. We have discussed how to resolve malicious links in detail here.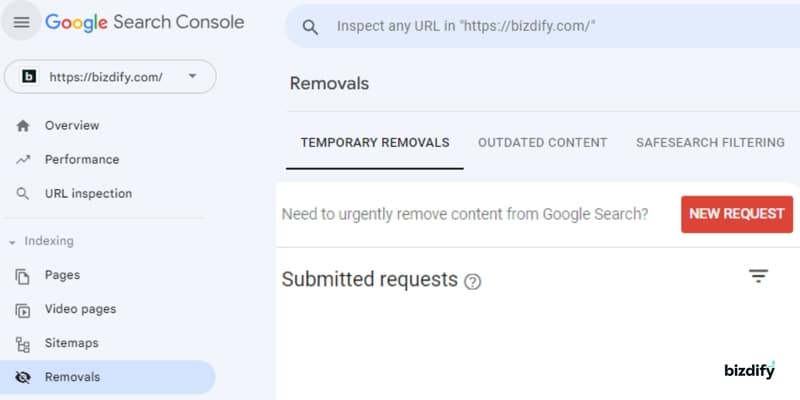 The use of the removals tool in the Google search console enables us to temporarily block the negative links on your website while the developer is working to either remove them permanently or redirect them to a relevant page. The developer may have to approach the host provider to remove any malicious virus or plugin that may be causing the unwanted URLs to be generated.
This tool can be accessed in the Google Search Console by clicking on the removal option. This tool provides services in three sections: temporary removal, outdated content, and safe search filtering. To remove the harmful URLs, you have to select the Google Index and then select Delete URL. It will create a deletion request, and then simply enter the unwanted URL. Sooner or later, the negative link in the SERP will no longer appear.
How Bizdify Can Help You Remove Negative Links from SERP
If you want to remove negative links from SERP and clean up Google search results, Bizdify can help. Bizdify is a well-reputed service that specialises in removing negative links from search engine results pages (SERP). By requesting their assistance, their experienced team and advanced software will help you deindex negative associations from SERP.
Final Words
By utilising Bizdify's expertise, you can regain control over your online presence and shape a positive image. Don't let negative associations hinder your personal or professional life any longer; take the first step towards a better online reputation today. This service is available not only for businesses but also for individuals, public figures, and celebrities who want to improve their online reputation. The team uses effective strategies to permanently remove damaging links from search engines, ensuring that they will not appear in the future. To access this service, simply contact Bizdify and explain your problem.