The field of marketing has become increasingly complicated and data-driven in the current AI and ML digital era. Businesses now include technology in their marketing strategy as a necessary component to stay competitive and effectively interact with their target audience. "Marketing Technology Stack" or "Martech Stack" refers to the collection of tools and technologies that allow this digital transformation. This article will explain what is marketing technology stack, why it's important, and how companies can build one that works well to achieve their goals.
The Significance of a Marketing Technology Stack
In order to succeed in the digital world, modern organisations need to have a well-organised marketing technology stack. It gives marketers the information and resources they need to make wise choices, streamline workflows, and establish more intimate connections with clients.
In essence, a marketing technology stack is an all-inclusive set of platforms, software tools, and technologies used by marketers for the purposes of organising, carrying out, and assessing their campaigns.
Relations with clients, managing content, social networking management, data analytics, promotional emails, advertising, and many more tasks are included in its broad range of activities. Together, these solutions improve client involvement, expedite marketing procedures, and offer insights into the efficacy of marketing initiatives.
Features of a Marketing Technology Stack
Depending on which areas of the transformation are being introduced, the following features are essential in a marketing technology stack: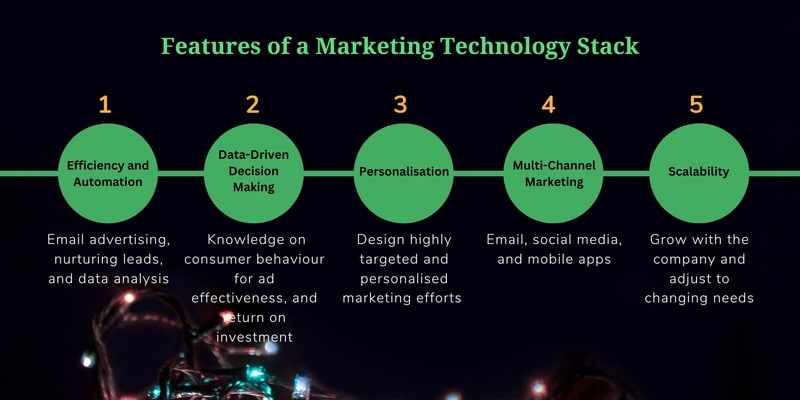 1) Efficiency and Automation
Email advertising, nurturing leads, and data analysis are just a few of the labour-intensive manual operations that can be automated with a well-designed Martech stack. This gives marketers more time to devote to strategy and innovation.
2) Data-Driven Decision Making
With marketing technology, a wealth of data and analytics are at your disposal. By gaining knowledge on consumer behaviour, ad effectiveness, and return on investment, marketers may improve their decision-making and strategy.
3) Personalisation
Businesses can design highly targeted and personalised marketing efforts with the help of automation and data. Customised offers and messaging have a higher chance of striking a chord with consumers, which raises conversion rates.
4) Multi-Channel Marketing
Using a Martech stack, companies may connect with clients through a variety of channels, including email, social media, and mobile apps. A wider audience and improved interaction are guaranteed by this multi-channel strategy.
5) Scalability
As companies expand, so do their marketing requirements. A scalable marketing technology stack may grow with the company and adjust to changing needs.
Essential Components of a Modern Marketing Technology Stack
The Marketing Technology Stack is a collection of tools and technologies that allow digital transformation within an organisation. Here are the essential components of a modern marketing technology stack:
A) System for managing content (CMS)
Technology that drives a blog, website, or other pertinent online domains where advertisers hope to interact with consumers
B) Advertising technology
Advertising technology is a big field, but for marketers, advertising is a crucial method of acquiring new clients. The majority will combine display ads, retargeting, ad tracking, and attribution technologies with SEM (search engine marketing).
C) Email marketing
Email is a vital tool for consumer communications that every marketer should have in their arsenal. Email can occasionally be used with marketing automation and inbound marketing platforms.
D) Customer relationship manager (CRM)
When assisting a direct sales force, customer relationship management, or CRM, can track marketing attribution.
CRMs are generally the focus of B2B marketers. All client interactions will be monitored by the CRM, which can also offer insights into how marketing initiatives affect the sales funnel and customer acquisition.
E) Experience optimisation
Experience optimisation refers to tools that let marketers act on data analytics to improve the effectiveness of their marketing campaigns.
These tools include customization software and A/B testing. There are numerous more channels that could demand varying amounts of investment based on your business plan and if your marketing approach is more B2C or B2B-oriented.
F) Search engine optimisation (SEO)
SEO stands for search engine optimisation. By helping your website rank better in search engines like Google, SEO is frequently a crucial tactic for increasing organic web traffic to your website.
SEO and content marketing go hand in hand. To assist with keyword research as well as other SEO-related tasks, a plethora of tools are accessible.
G) Social media marketing (SMM)
Technology that tracks social activity and facilitates social interaction might increase the effectiveness of this form of marketing.
A significant component of the advertising landscape are social networks like Facebook and LinkedIn, many of which offer possibilities for paid advertising.
H) Management of digital assets (DAM)
In that it saves content, it's comparable to a content management system, but it's usually more concerned with managing and creating static assets like photos, documents, and videos.
I) Insights and analytics
To gauge the effectiveness of their digital marketing efforts, marketers generally need to have access to their data.
The majority of marketers will use in-house or third-party technologies to track both their own business analytics and website analytics.
In more complex situations, a data warehouse can leverage content intelligence to provide insights on content performance or aggregate data from a variety of systems to make it more accessible.
J) Experience marketing
Event marketing, commonly referred to as experiential marketing, is a crucial component of marketing for a lot of businesses. With webinars, conferences, and virtual events becoming more and more common, it's critical to manage these events with the appropriate experiential marketing solutions.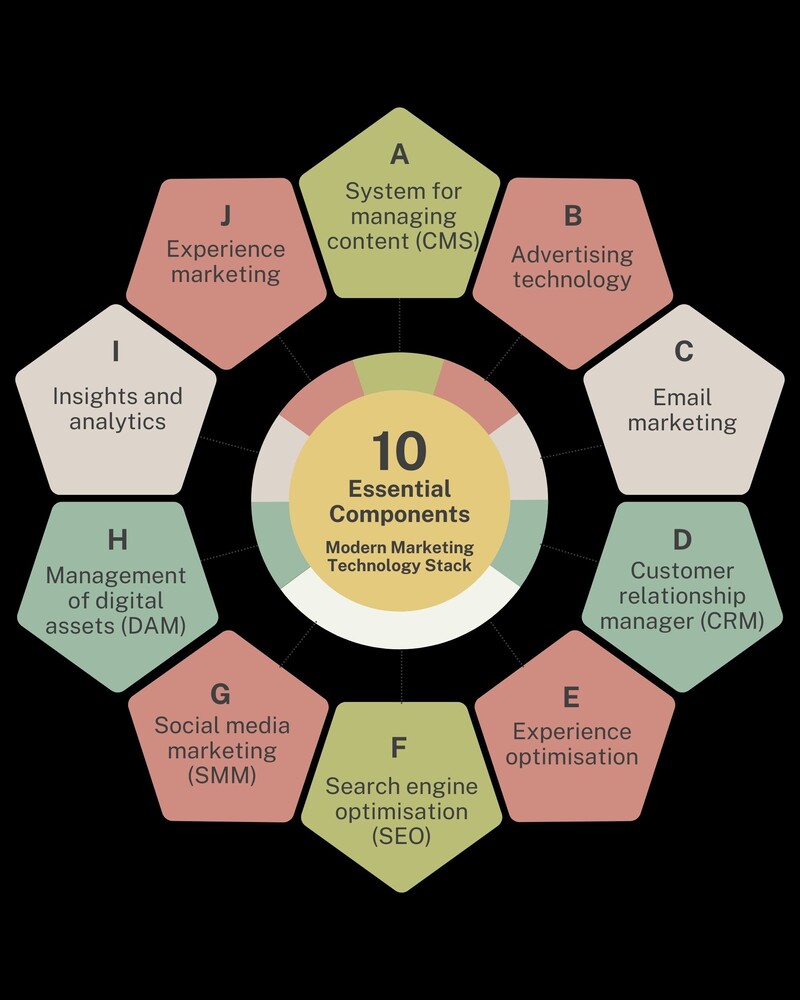 Creating a marketing technology stack
Marketing technologies are primarily concerned with simplifying complex processes, measuring the effectiveness of marketing campaigns, and promoting more cost-effective spending.
Through the meticulous development and upkeep of a Martech stack customised to your unique goals, your company may fully use contemporary marketing strategies and achieve success in a cutthroat industry. Below are the steps involved in creating a marketing technology stack
1) Identify the marketing goals.
List down the marketing goals and targets that were identified during consultation with the team. These goals should be specific, measurable, attainable, relevant, and time-bound. This will serve as the foundation for selecting the appropriate Martech tools and platforms that align with your company's objectives.
2) Do a survey about the difficulties faced by the team.
Have a meeting with your staff to learn about the difficulties they face carrying out their daily responsibilities. Although the discussion should be free-flowing, try to relate their difficulties to your marketing objectives.
3) Examine the tools that you plan to include in your Martech stack.
Create a spreadsheet with a list of the tech tools, their prices, and a brief description.
Once you've selected the tools you wish to try, go through the list and filter it further. Make sure to indicate if the item requires a monthly or annual subscription.
4) Make an estimated budget.
For small firms without a professional finance team, selecting a monthly budget is the ideal option. The majority of marketing technology stack tools are accessible as monthly subscriptions, which makes it simpler to discontinue use of one if it isn't beneficial for the team.
Make sure you consider how many seats you'll require for the tool, and find out whether the team is willing to share a single subscription. You can save a substantial amount of money by sharing a single subscription, which usually works without any issues.
5) Expand the IT stack with non-marketing tools.
Frequently, while discussing the Martech stack, we get hung up on technologies that are unique to marketing. However, a marketing team might benefit from a variety of "general" technologies. Among the products you can think about are collaboration platforms, data sync software solutions, and project management systems.
6) Gather the information you want to import into the tools.
It's time to move the data after you've bought the tools. Possess a list of leads already? Would you like to import Microsoft Word documents into Google Drive so that you can edit them together?
Arrange them all into folders. Assign each team member a certain category of data. One team member may, for example, gather all of the conference contacts.
The existing templates you use for your social media postings can be produced by another team member. Someone else can gather all of the content from the website to be redesigned.
You can transfer these files and data and more simply start up where you left off when it comes time to sign up for and utilise the tools.
7) One team member should be tasked with developing a workflow per tool.
Assign one team member to investigate a single tool. This team member will produce a step-by-step instructional complete with screenshots and record workflow steps for efficiently using the product. Next, arrange a meeting so that the team member can do a live instructional.
8) Examine how well the tools worked and, if needed, change the solutions.
It is important to regularly evaluate your tools to see if they are successful in streamlining workflows, automating repetitive operations, or improving team productivity.
Martech Stack Management
In order to accomplish your business objectives, managing a Martech stack entails choosing, integrating, and optimising several marketing tools. Enterprises and organisations provide services related to marketing technology stack management. These services are intended to help businesses accomplish their objectives by helping them use their marketing technology stack more effectively. These are a few typical services they offer:
1) Assessment and Audit
Determine opportunities for improvement, gaps, and inefficiencies in the present marketing technology stack.
2) Stack Selection Service
In this service, people from the company or agency will help you select appropriate marketing technologies that fulfil the requirements of the business.
3) Integrations
It is an important service for data security and to make sure all of the tools in the stack work together.
4) Implementation
As the name suggests, this will assist with the layout and design of the chosen tools in a productive manner and guarantee their efficient use.
5) Data management
Make plans for gathering data, keeping information, and analysing client data in order to inform marketing choices.
6) Training and support
Educate and assist the marketing team on how to use the tools productively and provide them with regular guidance about the tools.
7) Optimisation
Evaluate the stack's productivity on a regularly, make the required changes, and monitor its development.
8) Privacy and Compliance
Make sure that all legal formalities are done, and also check that the privacy of data is maintained.
9) Cost management
Helps in controlling the finances of the marketing technology stack.
10) Vendor Relations
Manage communications, settle conflicts, and keep track of developments with technology providers.
11) Reporting and Analysis
Contribute to the decision-making process by analysing facts and developments.
Build a Martech Stack that Helps You Grow Better with Bizdify
All these services are offered by Bizdify, specialist Martech Consulting Company. Our knowledge and efforts can be helpful in the constantly evolving field of modern marketing technology stacks. We have expertise in identifying the most suitable technologies for your specific needs and can provide valuable insights on industry trends and best practices. By leveraging our marketing technology stack management services, you can ensure that your Martech stack is optimised for growth and stays ahead of the competition. Stay agile, adapt to evolving customer needs, and ensure long-lasting success. Let's build experiences that deliver results together. Contact us now!