Online reputation management (ORM) refers to the practise of monitoring, influencing, and protecting the image of a person, business, or brand on the internet. The internet is a vast and open platform where anyone can post anything about anyone, and that content can spread rapidly, positively or negatively, affecting an individual's or business's reputation. Business online reputation management is crucial for online reputation protection, as reputation plays a critical role in customer acquisition and retention. Online reputation monitoring involves various brand protection strategies and techniques to manage a brand's online image, enhance its visibility, and improve its search engine ranking.
The Importance of Online Reputation Management in Today's Digital World
In today's digital environment, the importance of online reputation management cannot be understated. Businesses and individuals need to monitor their online presence and manage their reputations through various strategies, keeping in mind the current influence of social media and other online platforms. A single bad review can result in the loss of clients, revenue, and credibility going forward. An organisation's or person's online reputation can be managed, safeguarded against the impact of negative reviews, and enhanced with the aid of ORM.
How to Monitor Your Online Reputation and Identify Potential Issues
The first step in online reputation management is to monitor regularly. There are various online reputation monitoring tools and techniques available to monitor your online presence, including social media listening tools, search engine alerts, and online review monitoring tools. These tools help to track brand mentions, identify negative reviews, and monitor social media conversations that involve your brand. By regularly monitoring your online reputation, you can identify potential issues and address them before they become a crisis.
Online review monitoring tools are also essential for online reputation management. These tools help to monitor online reviews on various review sites, including Yelp, Google, and TripAdvisor. By monitoring online reviews, you can identify any negative reviews and respond to them promptly.
The best tools and services for managing your online reputation
There are several online reputation management tools and services for social media and online reputation management on the market. These tools help you monitor and manage your online reputation, track brand mentions, and respond to customer reviews.
BrandYourself: This is an online reputation management service that helps individuals and businesses monitor and improve their online reputation.
Bizdify.com: Bizdify is a comprehensive online reputation management agency that helps businesses monitor and manage their online reputation. Bizdify has features like review monitoring, social media content removal, and Google link removal.
Mention: Mention is a social media and online monitoring tool that allows you to track mentions of your brand, products, or industry online.
SEMrush: SEMrush is an SEO tool that can help you monitor your online reputation by tracking your search engine rankings and analysing your website's SEO performance.
Apart from the above, Yelp, Google, and TripAdvisor are just a few of the review sites that businesses can monitor and manage online reviews on with the use of ReviewTrackers, an online review management tool.
Strategies for Building a Positive Online Reputation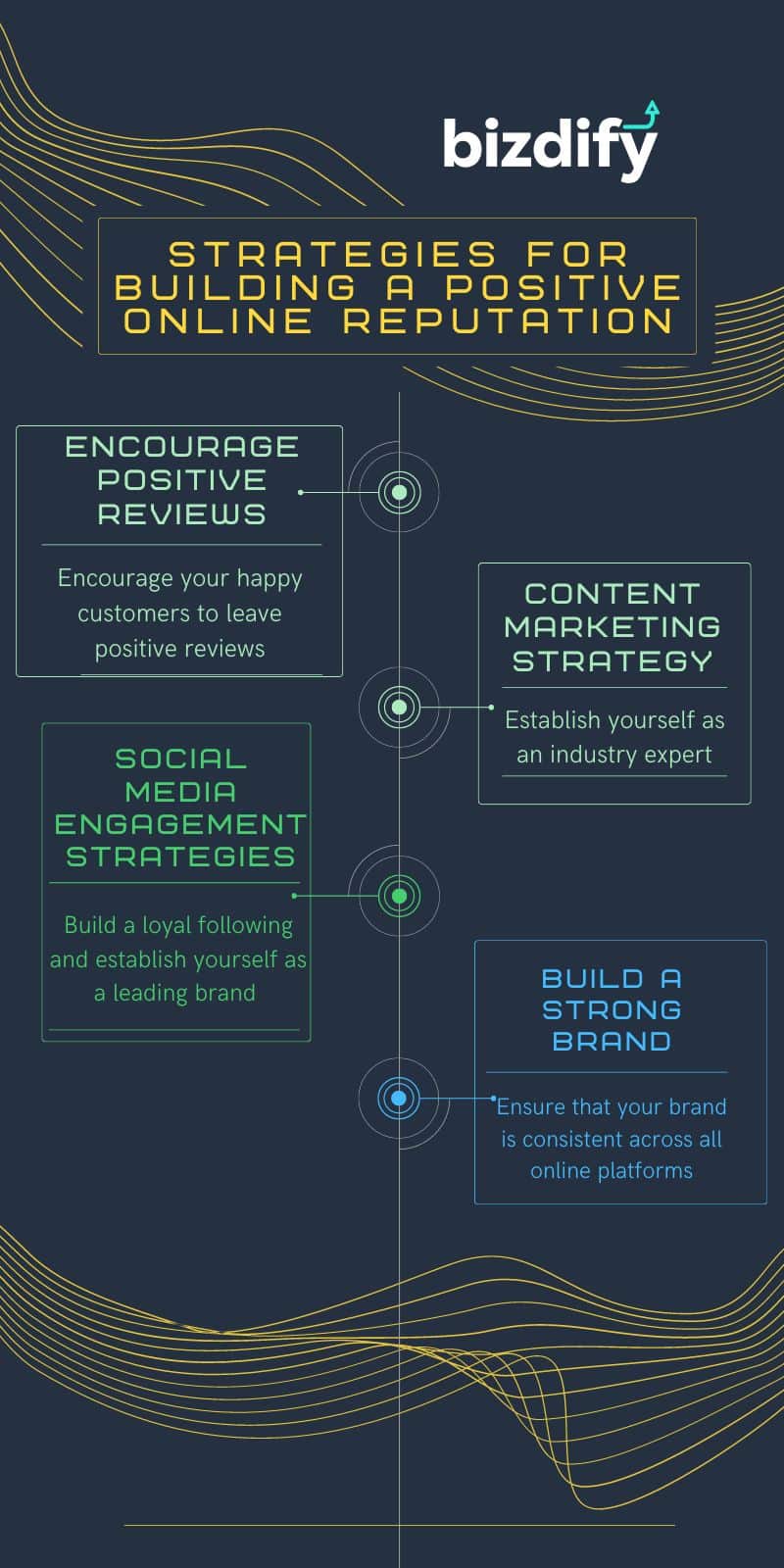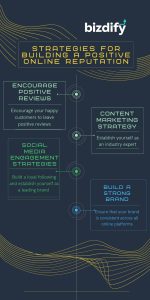 Building a positive online reputation requires a proactive approach. There are various strategies and techniques that businesses can use to build a positive online reputation.
Encourage Positive Reviews: A positive review strategy plays a crucial role in building a positive online reputation. Encourage your happy customers to leave positive reviews on review sites such as Yelp, Google, and TripAdvisor.
Content marketing strategy: By creating high-quality, informative content, you can establish yourself as an industry expert and build trust with your audience.
Social media engagement strategies: Social media engagement is another effective way to build a positive online reputation. By engaging the audience on Facebook, Twitter, and Instagram, you can build a loyal following and establish yourself as a leading brand in the market segment.
Build a Strong Brand: A strong brand image is essential for building a positive online reputation. Ensure that your brand is consistent across all online platforms, including your website, social media, and other online properties. Create a brand style guide to ensure that all visual and written content is consistent with your brand's values and messaging.
How to Respond to Negative Reviews and Manage Your Brand's Crisis Situations
Responding to negative reviews and online reputation management. It's essential to respond to negative reviews promptly and professionally to show your customers that you care about their feedback and are willing to address any issues.
When responding to negative reviews, follow these steps:
Acknowledge the issue: Start by acknowledging the customer's complaint and apologising for their negative experience.
Provide a solution: Offer a solution to the customer's issue and assure them that you will take steps to prevent it from happening again in the future.
Show appreciation: Thank the customer for their feedback and assure them that you value their business.
In the case of a crisis situation, it's essential to have a crisis communication plan template in place. A crisis communication plan outlines the steps to be taken in case of an emergency, including who is responsible for communicating with stakeholders, what messages should be communicated, and how to manage the situation.
Conclusion
Managing your online reputation is more important than ever in the modern digital age. A single negative review or comment can have a substantial negative effect on a company's reputation, resulting in lost clients, income, and credibility. Internet reputation management aids companies in keeping an eye on and managing their online reputation, safeguarding it from unfavourable comments, and enhancing it. Businesses can create a positive online reputation and safeguard their brand's reputation by adhering to the principles and practises described in this guide and utilising the appropriate online reputation management tools and services.
---
Bizdify is an award-winning reputation management company that established businesses have been relying on for years. Our team of experienced reputation managers provide services tailored to each business's specific needs.
Review Removal Package Plans – Bizdify
AU Remove Reviews Bizdify Packages
UK Remove Reviews Bizdify Packages
USA Remove Reviews Bizdify Packages
EU Remove Reviews Bizdify Packages 
Map Listing Optimisation By Bizdify
Contact Numbers:
Sydney: +612 888 00 307
Queensland: +617 366 77 473
Melbourne: +613 9999 7379
London: +44 204 577 4024
USA +1 737 7101 776
Social media accounts:
LinkedIn: https://au.linkedin.com/company/bizdify-content-removal
Facebook: https://www.facebook.com/bizdifyAU/
GMB Site: https://bizdify.business.site/