Trustpilot is an online review platform that allows customers to leave reviews and ratings for businesses. Trustpilot is an important platform for businesses because it can significantly impact their online reputation and overall success. Positive Trustpilot business reviews on Trustpilot business accounts can attract new customers and increase trust in a business, while negative reviews can harm a business's reputation and discourage potential customers from doing business with them. In this comprehensive guide, we will discuss removing negative Trustpilot reviews and how to do business with online reputation management.
How to Flag and Remove Inappropriate or False Reviews on Trustpilot
The first step to removing negative Trustpilot reviews is to flag them as inappropriate or false. Trustpilot has a reporting system in place that allows businesses to report reviews that violate their policies. Here's how to delete Trustpilot review: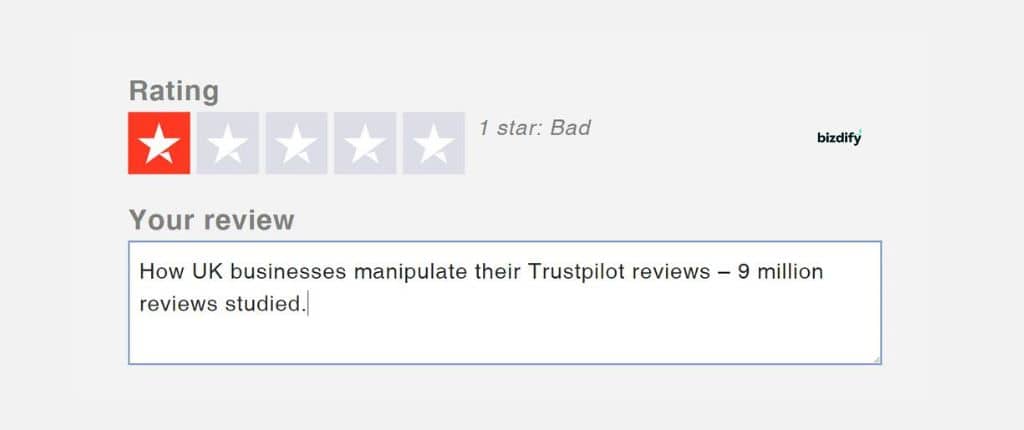 Log in to your Trustpilot business account and navigate to the review that you want to flag.
"Report review" can be accessed by clicking the three dots in the top right corner of the review.
Choose the reason why you are reporting the review, such as inappropriate language, false information, or a conflict of interest.
Give any further information that may be appropriate to your report.
Submit the report, and Trustpilot will investigate the review. If the reviews are inappropriate, the platform will successfully remove a negative review from Trustpilot.
Best Practices for Responding to Negative Reviews on Trustpilot
While removing negative Trustpilot reviews can help improve your online reputation, it's also important to learn to respond to negative reviews in a professional and constructive manner. Here are some best practises for how to respond to bad reviews on Trustpilot: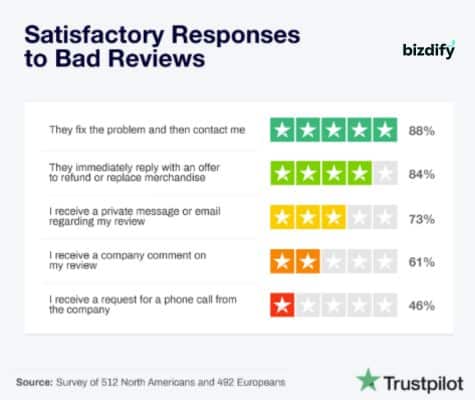 Respond Promptly: When a business receives a negative review, responding promptly is essential. Delayed responses can leave customers feeling unheard or ignored. By responding quickly, a business can demonstrate that they take customer feedback seriously and are committed to addressing the issue. Prompt responses can also help prevent the negative review from escalating further.
Stay Professional: It's important to remain professional and courteous in your response, regardless of how the customer has phrased their feedback. Defensiveness or argumentativeness should be avoided because they can exacerbate the situation. Instead, acknowledge the customer's concerns and focus on finding a solution.
Address the Issue: When responding to negative reviews online, it's essential to address the issue raised by the customer. Take the time to understand their concerns and offer a solution or apology, if appropriate. If the issue cannot be resolved, explain why this is the case and offer alternative solutions where possible. By addressing the issue, you demonstrate to potential customers that you are committed to providing excellent customer service.
Keep It Brief: It's important to keep your response brief and to the point. While you want to show that you have taken the time to read the review and respond appropriately, a lengthy response can come across as defensive or argumentative. Focus on acknowledging the customer's concerns and offering a solution, and keep your response concise and professional.
Offer a resolution: If possible, offer a resolution to the customer's issue. This can enable you to turn a negative experience or event into a positive one.
[Frichou, Flora. "How to Respond to Negative Reviews – Trustpilot Business Blog." Trustpilot, 11 Mar. 2020, business.trustpilot.com/reviews/learn-from-customers/how-to-respond-to-negative-reviews.]
What Other Strategies Can You Use To Protect Your Online Reputation On Trustpilot?
In addition to removing negative Trustpilot reviews and responding to negative feedback, there are other strategies businesses can use to improve their online reputation on Trustpilot. Here are a few strategies to protect your online reputation on Trustpilot.
Soliciting positive reviews on Trustpilot: Encourage your satisfied customers to leave positive reviews on Trustpilot. This can help boost your overall rating and offset any negative reviews.
Monitor your reviews: Regularly monitor your reviews on Trustpilot and other review sites. This will allow you to respond promptly to any negative feedback and address customer concerns before they become larger issues.
Use review management tools: Review management tools are software solutions designed to help businesses monitor and manage their online reviews across multiple platforms, including Trustpilot and other review sites. These tools can provide a wide range of features to help businesses streamline the review management process and ensure that all reviews are handled promptly and professionally.
[Frichou, Flora. "3 Strategies to Improve Your Online Reputation With Trustpilot's New Benchmark Tool – Trustpilot Business Blog." Trustpilot, 25 Oct. 2019, business.trustpilot.com/reviews/build-trusted-brand/3-strategies-to-improve-your-online-reputation-with-trustpilots-new.]
Benefits of Review Management Tools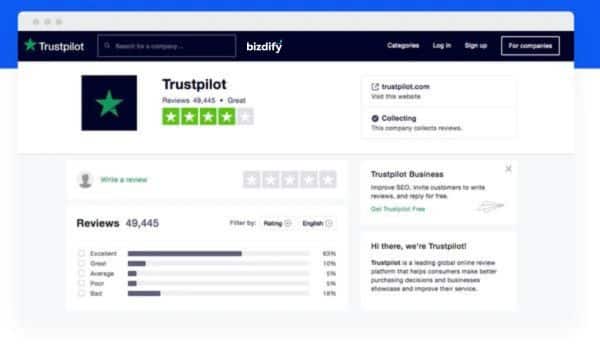 One of the main benefits of review management tools is that they can help businesses monitor their reviews in real time. This means that businesses can receive instant notifications whenever a new review is posted, allowing them to respond promptly and address any issues before they escalate.
Review management tools can also help businesses track their online reputation over time. By analysing trends in customer feedback, businesses can identify areas where they need to improve and make changes to their products or services accordingly.
The ability to automatically respond to frequent problems is a crucial component of review management solutions. For instance, if a company receives a lot of negative comments about a certain issue, it can fix the issue and save time by replying to individual reviews by creating an automated response.
Free Reputation Management Audit
Overall, organisations aiming to enhance their online reputation by removing negative Trustpilot reviews more skillfully may find review management systems to be a worthwhile investment. That's where Bizdify can help. With our free reputation management audit, you can take the next step in securing your online reputation. During the reputation audit, our experts will meticulously dissect the internet for references to your company, carefully evaluate the content posted on your social media platforms, and identify and address any negative reviews or comments circulating online. These solutions can assist companies in maintaining control of their online reputations and ensuring that they are presenting themselves in the best possible light to potential clients by automating the review management process and offering insightful information on customer comments. By booking your free reputation audit with Bizdify, you'll gain invaluable insights and actionable recommendations to enhance your digital reputation management.
---
Bizdify is an award-winning reputation management company that established businesses have been relying on for years. Our team of experienced reputation managers provide services tailored to each business's specific needs.
Review Removal Package Plans – Bizdify
AU Remove Reviews Bizdify Packages
UK Remove Reviews Bizdify Packages
USA Remove Reviews Bizdify Packages
EU Remove Reviews Bizdify Packages
Map Listing Optimisation By Bizdify
Contact Numbers:
Sydney: +612 888 00 307
Queensland: +617 366 77 473
Melbourne: +613 9999 7379
London: +44 204 577 4024
USA +1 737 7101 776
Social media accounts:
LinkedIn: https://au.linkedin.com/company/bizdify-content-removal
Facebook: https://www.facebook.com/bizdifyAU/
GMB Site: https://bizdify.business.site/